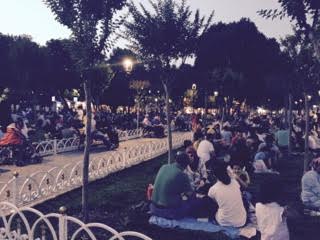 Ramadam time is here again!    From 22 May to 25 June this year people are fasting and getting together as families for iftar (end of fast meal)
Sultanahmet is crowded with many Turkish family enjoying their evening meal together.   Ramadam is a time of sharing, caring and hospitality.
Each Ramadam there is craft market selling handicrafts and hand made goods from all over Turkey – after iftar take a stroll down the market.