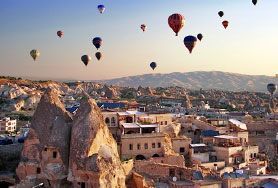 TURKEY TRAVEL GUIDE is a private tour service based in Istanbul and run by an Australian and Turkish partnership.
Our mission is to ensure that you leave Turkey with wonderful lasting memories. We want you to have a unique experience sometimes missed in larger groups. If you dislike being stuck on a large group tour, Turkey Travel Guide offers another option…
REVEAL MORE
How Our Tours Operate
Our tours are privately organized with our trusted guides and safe reliable vehicles.  We specialize in family groups, friends wishing to travel together, and couples or solo travelers who want a more personal experience.
Accommodation Style
We place our guests in boutique type hotels in smaller villages and towns. You can travel at your own pace, relax and have the chance to enjoy the local flavour.
Village Home Stays
In addition to the highlights of Istanbul and Turkey, we also offer the experience of a Turkish village home stay or visit. This can easily be incorporated into your tour plan. You will have a unique experience and interact with Turkish people.
Short Stopovers
If you are coming to Istanbul for a short stopover we can organise a quality tour of the old city of Sultanahmet in your native language. We can also reserve a vehicle to take you around the main sites outside the old city.
Activities and Tastes
Try an authentic hamam in our local Turkish Bath, or alternatively visit the Harem Sultan Hamam for a luxurious pampering. Interested in Turkish cuisine? Take a back street food walk, visit different areas, see different parts of Istanbul that you may not see on with a large tour group.   Try out local restaurants or fine dine at Istanbul's top restaurants.
Arriving by Cruise Ship
For those who are starting and ending their cruise in Istanbul, we can put together a package that provides a worry free overview of Istanbul and will make effective use of your short stopover in this beautiful city.
Gallipoli Tours
The Gallipoli Battlefields have special significance for Australians and New Zealanders. A regular or private tour can be done in a day from Istanbul or incorporate a visit into your travel plan in Turkey. Our specialist guide provides an insightful and memorable experience at this moving site.
Cappadocia Tours
One of the most photographed areas of Turkey is sure to be Cappadocia – the town made famous for its 'Fairy Chimneys'. These Fairy Chimneys are actually volcanic rocks that have eroded into pillar formations. Valleys upon valleys of Chimneys are made even more remarkable when seen from hot air balloons in the sunrise. We have a range of Cappadocia Tours to suit any budget and style, talk to us to find out more.
Planning Your Trip
Turkey is such a diverse destination where there is so much to choose from that it can be difficult to work out what to do! We can help you plan an unforgettable trip that is worry free and the best value for money. Our emphasis is on planning what you want and at a monetary level that suits you.
We are here on the ground in Turkey and available to ensure that your travel plan runs smoothly.