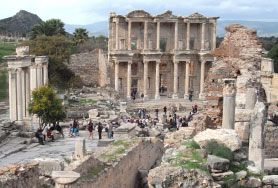 Step back to Roman and Biblical times!
A visit to the ancient Greco-Roman city of Ephesus is a site not to be missed while you are in Turkey. With its Roman and Christian heritage it will amaze any visitor!
Visit the beautiful House of the Virgin Mary where Mary was believed to have lived out the last years of her life and the Basilicia of St John where the grave of this special Saint is located.  The Celcius Library takes your breath away, as will the recently unearthed Terraced Houses with their in tact in place mosaic floors and walls.
Visit the Temple of Artemis dating from 500 Century BC and if you are on private tour you travel up to small town stone of Sirinci with its wine and handicrafts.
Turkey has more ancient sites than other countries put together and Ephesus is the most beautiful of them all. Choose from one of tour options for your Ephesus visit.