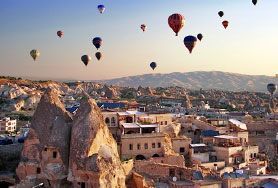 Visit the land of the Fairy Chimneys and see a blend of history and beauty
The moonscape landscape is like no other place on earth! Valleys full of fairy chimneys just waiting to be discovered – hike, ride or tour through these amazing formations, or better still glide over them at sunrise in a beautiful balloon.
Many of our guests comment this experience is one of their most unforgettable memories of Turkey. See rock-hewn Churches with their ancient murals, underground cities where civilizations once lived under siege. Cappadocians have lived in their cave houses for many centuries and now you can experience life in a cave hotel with magnificent views out over the valleys.
Our Cappadocia Tours can be designed to suit the number of days you have in Turkey, whether it be a quick trip from Istanbul or as part of a longer tour.