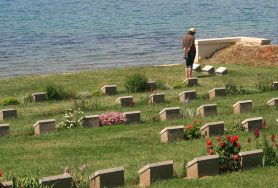 TAKE A JOURNEY TO GALLIPOLI …. See the Battlefields of this beautiful peninsula
Gallipoli has a special place in the hearts of Australian and New Zealanders. The battlefields of Gallipoli forged a unique friendship between the Turkish and Anzac soldiers who fought there.
A pilgrimage to this very moving and beautiful place can be done from Istanbul on a day trip or a combination trip with Troy.
Gallipoli is also easily included in a wider tour of Turkey en route to Ephesus Private tours with specialist guides are also available for those people who have a specific family interest in Gallipoli and need extra time to reflect on their family heritage. Talk to us about what your want for your Gallipoli experience!